Prepare Your Home for Winter with a Sustainable Mindset
We may be having a mild winter so far, but it is always a good idea to prepare your home for the cold-weather. NextStepLiving provides some helpful tips for preparing your home while keeping the environment in mind. See their tips below!
1. Clean your gutters
Nobody wants to clean their gutters twice a year, but unfortunately, that's one of the joys of home ownership. Some crafty home owners have come up with a few ways to clean their gutters without having to climb a ladder, like using a high-pressure attachment on their garden hose or getting an extension for their leaf blower. Unfortunately, those methods aren't very eco-friendly – one wastes vast amounts of water and the other causes fossil fuel emissions.
By deduction, you may think you only have one option left – to climb that dangerously teetering ladder to your out-of-reach gutters. But, there's a third option. Have your gutters professionally cleaned, and ask them to use only green methods, like scooping the leaves out with a small hand shovel or using wire gutter brushes.
Better yet, make this your last time unclogging your gutters by investing in gutter protection. One such gutter protection system, LeafFilter™, is made of sustainable surgical grade stainless steel. As an added bonus, this company will include a complimentary gutter cleaning during the install process, saving you the hassle of multiple service calls or the gross task of cleaning them yourself.
2. Draft-proof your doors and windows
If you feel air leaking from any of your windows or doors, you'll be losing energy this winter, but fear not: You can stop cold drafts, reduce energy waste and save up to 20% on your energy bills just by eliminating the air leaks in your home. Many home improvement stores sell window and door seals, sometimes called weather-strip seals, to stop the cold drafts in your home. These are usually made of rubber or silicone, which can both be eco-friendly under the right manufacturing circumstances.
Another option is to dust off your sewing machine and make your own draft stoppers using sustainable fabrics. All you need is a few yards of fabric, dried beans or rice (some even use cat litter), and some thread. This method is also extremely cost-effective, though it may take some time to take make enough of these to take care of all the windows and doors in your house.
While weather-strip seals and homemade draft stoppers are great ways to stop drafts from the areas where you really feel it, cold air can leak into your home through crawl spaces, dryer vents and many other unexpected spots. While these leaks are often small, they can certainly add up. The best way to test your home for air leaks to make it truly air tight is through a home energy assessment.
3. Pick up the leaves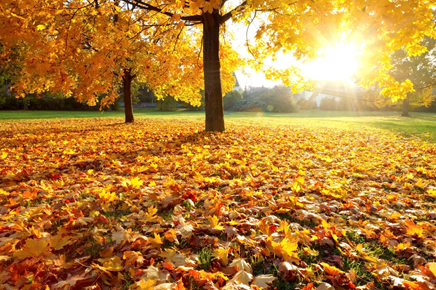 If you (or your neighbor) have trees in your backyard, chances are you'll be picking up leaves until the snow falls this winter. You certainly don't want to leave them on your lawn, as this may kill it off come springtime. This task can be a pain, but, done right, these leaves can come in handy!
Leaves are extremely dense in nutrients, and can be added to a compost pile as a great natural fertilizer. If you've tried this method and found that the leaves don't break down, some sources suggest shredding the leaves or adding extra nitrogen.
Another clever way to use the leaves in your yard is to nest them around roses and other perennials in your garden. They will act like insulation, and will help get them safely through the winter. A good rule of thumb is to use about six inches of leaves around the bases of delicate plants.
On a related note, make sure to avoid using a gas-powered leaf blower to cut back on emissions. Use an electric leaf blower instead, or save on energy (and get a little exercise) by raking the leaves by hand.
4. Insulate your attic
Your attic is another place you'll lose energy this winter if it's not properly insulated. Tackle this now, before the weather gets too cold for maximum savings. Along with air sealing, insulation will not only help keep the heat inside this winter, but dramatically cut a leading cause of energy waste in most homes. It can also save you up to 20% on your heating and cooling costs.
When choosing an insulation product, consider one of the greenest options: blown-in cellulose. It's made up of 75% recycled paper, its manufacturing consumes less energy than other types of insulation and any cellulose that's not used in a given installation can be reused, reducing waste.
4. Repair or replace your roof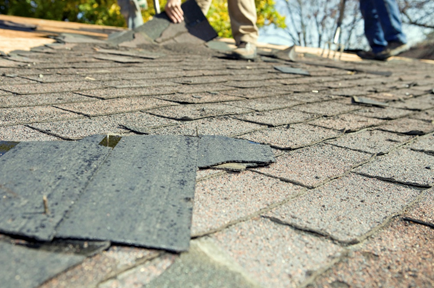 Now is a great time to give your roof some attention because, come winter, it can be a major source of water leaks and energy loss. Check for missing patches, as well as curling, splitting or loose shingles. Also be on the lookout for rusted or missing flashing, a material used on roofs to prevent water damage. These are all signs that it's time to repair or replace your roof, depending on its age of and extent of the damage.
If you decide to replace the roof altogether, check out products like metal roofs, slate or wood shingles or solar to offset your carbon footprint. If you've got a green thumb, you might want to try your hand at green roofing, which is the up and coming trend of planting rooftop gardens meant to completely replace shingles.
Finally, make sure to recycle old roof materials so that they don't end up in a landfill.
(Original article & images: http://www.nextstepliving.com/blog/get-your-home-ready-for-winter-sustainably)
Have some tips on winterizing your home? Leave some tips in the comments!