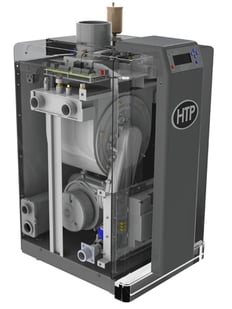 Did you know the Elite Premier Boiler has a 928 control board? This control board does everything the 926 control board did and more! It has a switchboard power supply, dual process (safety and control), and 120V or 24V gas valve support. It also has open therm thermostat support, a separate system pump, on-board UL353 LWCO, two 0-10 outputs, along with dedicated flue, supply, and target temp sensors.
This two line, 40 character LCD control panel displays fault code and narrative to aid in troubleshooting and also provides a means for adjustment. It provides automatic temperature adjustment to meet the programmed temperature reset schedule.
To learn more about the 928 control board, click here!