Westinghouse is excited to announce a new Commercial Gas Water Heater, a stainless steel high efficiency gas fired commercial water heater. This new unit will accommodate even the most difficult installations with lower clearance and multiple inlet and outlet connections – an industry first for Condensing Water Heaters.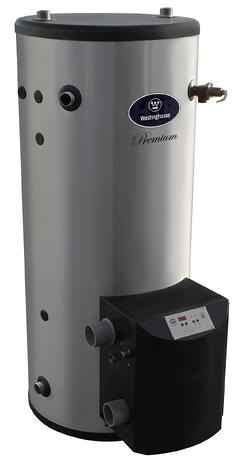 The Commercial Gas Water Heater is an extremely versatile and efficient appliance suitable for a variety of commercial and residential water heating needs. It provides large quantities of hot water without consuming large amounts of energy. It features a modulating burner that matches energy usage to demand and has up to a 96% thermal efficiency. Combined with whisper quiet operation and low NOx emissions, it is ideal for use in hotels, apartment buildings, restaurants, laundry facilities, schools, homes, and more.

With Westinghouse's focus on quality design, the Commercial Gas Water Heater is equipped with a 316L stainless steel tank that resists corrosion and eliminates the need for anode rods. The tank is laser welded and allows for more precise welding through a concentrated heat source. The exterior features faux stainless steel, making it aesthetically pleasing to consumers.

Westinghouse's Commercial Gas Water Heater also features a unique cupronickel heat exchanger that boasts the best heat exchanger properties in the industry and has an advanced electronic control which makes it easy to program, set system parameters and review fault code history in an easy to read LCD display.

The Commercial Gas Water Heater also has a versatile range. It's available in 80 and 100 gallons and in two BTU sizes (130k and 199K). It vents in inexpensive PVC or CPVC pipe. It's combined vent lengths of up to 200' in 3" pipe or 85' in 2" pipe.

For more information on the Commercial Gas Water Heater, visit our website WestinghouseWaterHeating.com. The Commercial Gas Water Heater is backed by Westinghouse's Commercial and Residential Warranty.