Obtain freedom from high fuel costs while protecting the environment with solar options from HTP!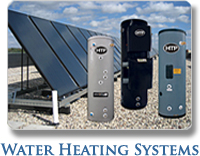 You Care - Each solar panel eliminates tons of carbon dioxide from being released into the atmosphere. It would take the planting of 40 trees per year to recoup that much CO2. Collecting and using solar energy reduces fuel consumption, be it electricity or natural gas (15,000 cubic feet of natural gas or 4,000 BTU per day for each solar panel) *Consult local utility rates for your area.
Solar Heating Pays Off - Choosing Solar saves you money by cutting your electricty of gas use
Rebates lower the costs - There are numerous incentives to help lower of the cost of solar. Federal Tax Incentives, State rebates and incentives, utility rebates and incentives and even local city or Municipality Rebates and Incentives.
Here are some helpful links to help you find solar rebates: